Delhi's air is so polluted that everyone in the Capital may have their breathing affected today morning, when they woke up to a smog caused by Diwali fireworks.
In numbers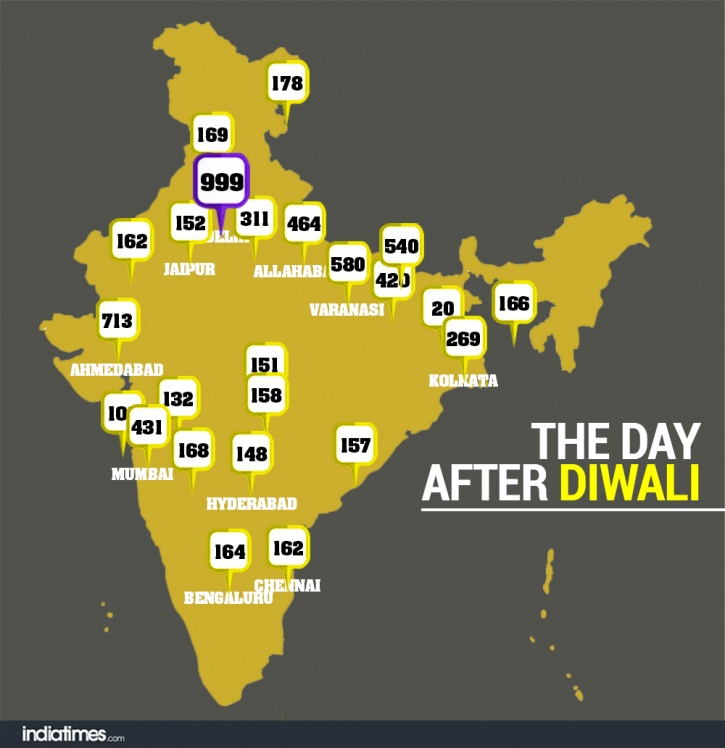 According to the System of Air Quality and Weather Forecasting and Research (SAFAR), respirable pollutants, PM 2.5 and PM 10, were clocked at 283 and 517 micrograms per cubic metre at 8 PM last night. They should be at 60 and 100 respectively, and anything higher can mean particulate matter embedding itself in your lungs, making its way to your blood stream. 
Real-time ambient air quality data: Delhi Pollution Control Committee (DPCC) from RK Puram, one of the Capital's most polluted spots
PM10 was 4,273 µg/m³: 10.55 PM
PM10 permissible limit: 100 µg/m³
PM2.5 was 748µg/m³: 2.30am
PM 2.5 is permissible at 60µg/m³
Therefore. PM10 readings rose by 42 times  and PM2.5 readings rose by 12.5 times
With such a reading, people have been asked not to step out, as it is dangerous for children, elders and those with heart or lung diseases.
Firecracker pollution isn't the only culprit – it is a catalyst to Delhi bigger pollution problem, of automobile traffic, dust, farm smoke blowing in from Punjab and Haryana as farmers clear their fields – with fire that burns in a band ranging 250 km from east to west.
Slow winds also don't allow the airborne pollution to dissipate, trapping Delhi in a poisonous greenhouse.